Sunday – Seeing my first wooly bear caterpillar of the season. It had a wide band of brown, which supposedly means we will be having a mild winter, which concurs with what the local meteorologists have been predicting (who, strangely, do not actually study meteors).
Monday – Secunda getting a promotion at work.
Tuesday – Taking a fall walk, listening to the sound of the leaves crunching underfoot.
Wednesday – Sola telling me that her imaginary friend had seen a purple squirrel. I asked if her "friend" had been on another planet or something and Sola replied very seriously, "Uh, huh, she was at California." (This is doubly funny for us since that is where I was raised and where my parents still live.)
Thursday – Going to a local farm festival with friends and having such a good time that we stayed for four hours! I was so exhausted by the time we got home (a hazard of doing "too much" for those of us with connective tissue diseases), I fell asleep on the couch, but Sola quietly played by herself for an hour and then Noctis babysat her for an hour. I am so thankful that my children are mature and responsible enough that they can allow me to sleep when I need it at times like this (I was practically unconscious).
Friday – Fog! Sola thinks its scary and my husband says there was a horror movie made about it, which I will not let him tell me anything about, but I love fog. I think fog makes everything look a little bit more pretty and mysterious, plus I find that it is easier to breathe in fog. As long as I can see past the hood of my car, I love fog!
Saturday – My husband fixing the door from the house to the garage. I didn't appreciate how important that door was until it broke on Monday. My husband is working long hours during the week right now, so couldn't go get the part he needed until yesterday. We practically had a party to celebrate our new door handle.
I'm sharing this post with Taryn over at Wooly Moss Roots. If you're a blogger, you might want to join this weekly link-up. It is good for the soul to think back on your day or week and reflect on how much you really have to be grateful for. Sometimes we find ourselves dwelling on the negative, when we have so much positive to be grateful for. Focusing on the positive has helped me to weather some days that have been very tough for me, emotionally. This weekly practice has been a great gift to me from Taryn, even though she doesn't even know me.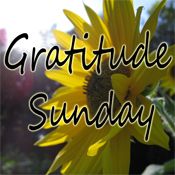 Maureen